BMW Diagnostic Tool Enthusiast P...
BMW Diagnostic Tool Enthusiast Package 2000-on with OBD2
List Price
$287.00
Price:
$272.65 Kit
Savings:
$14.35 (5%)
This package is designed for the BMW enthusiast that works on their own car. It offers most of the great features of our professional kit, but will only work on up to 3 cars (managed by VIN).

Includes:

1 Bavarian Technic Diagnostic cable that plugs into your computer's USB port at one end

1 Adapter Cable with a 3 car limit

1 Set of installation instructions

All BMW's built since 1988 have a diagnostic connector. These connectors have have 20 pins and a small pie shapped hole in the middle, and they are located under the hood.

Starting in 1996 BMW started adding OBD2 connectors for North American market cars. These OBD2 connectors only have access to engine control module. For use with Bavarian technic you must use the Round connector under the hood.

Starting in July of 2000 BMW removed the round diagnostic connectors and adding all diagnostic capabilites to the OBD2 connector on most models.
E38 7 Series, and Z3 models used the round diagnostic connector beyond 07/2000.

If your car has the round diagnostic connector under the hood, you should use the round adapter and not the 16 pin OBD2 connector
---
About Bavarian Technic
About Us
---
Bavarian Technic is comprised of software engineers and automotive enthusiasts alike. As automotive enthusiasts, we understand the value of solid, effective tools in the workshop. With the goal of providing professional mechanics and home enthusiasts with tools they can rely on, we work hard to develop easy-to-use software and quality hardware for the automotive repair market.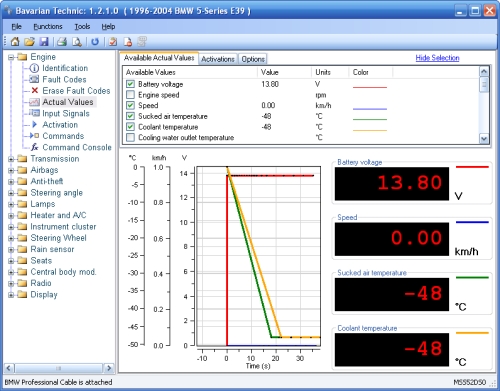 Images are provided by the manufacturer/supplier and may be a generic photo for representation purposes, and not of the actual product. Pricing also subject to change without notice.
---
Wheels And Tires
+Service & Maintenance
Suspension Upgrades
Drivetrain Upgrades
Brake Upgrades
Interior Upgrades
Exhaust Upgrades
Engine Upgrades
Exterior Upgrades
Electronic Upgrades
Lifestyle
Installations Overview
---