About Us
GMP Performance was founded in Charlotte, NC in 1975. We specialize in performance upgrades and service for German cars. We are known as a specialist in German automotive enhancements tailoring current model vehicles to individuals with custom wheel and tire packages, sport suspension and exhaust, engine power upgrades and interior appointments. The company has evolved into a routine maintenance and repair facility, an installation specialist, national reseller as well as an international importer and exporter offering the industries most respected brands. We have a motorsports mentality in everything we do and make sure that cars are ready for the track, even if its being driven down the street.
We currently operate with three locations; Charlotte, Lake Norman and South Atlanta. Each facility is completely air-conditioned and heated for the comfort of the entire team, including our technicians. Each has been upfitted with bright LED lighting and the industry's most recognizable shop equipment. Our Rotary Lifts were designed and custom ordered with 3" puck style pads that independently adjust to lift at the pinch welds and can accommodate the lowest cars. The shops all feature a waiting lounge area with bar-top stations for working, comfortable couches and oversized chairs to relax as you wait on services to be completed. We focus on providing consistent company-wide standard design elements while embracing the individual locations own unique automotive inspired personality.
Mission Statement:
At GMP Performance, our team's top priority is to deliver a professional experience in a passionate environment to the German automotive enthusiast for the street and at the track by providing service, upgrades, detailing, track support and storage.
GMP Performance Charlotte
Our Charlotte store is our original location and we are located in a 14,000 square foot building. Our main building is an 8,000 square foot showroom with detailing booth, customer lounge and car storage. Enthusiasts are greeted with a variety of cars displayed in the showroom area flanked by a two story car storage racking system. The adjoined building is a 6,000 square foot shop with five custom designed Rotary Lifts, a Hunter Engineering Hawk Eye Elite alignment rack thats been recessed in-ground for a flush approach as well as Hunter Auto34 Revolution Wheel Mounting Machine and Hunter Road Force Tire Balancer.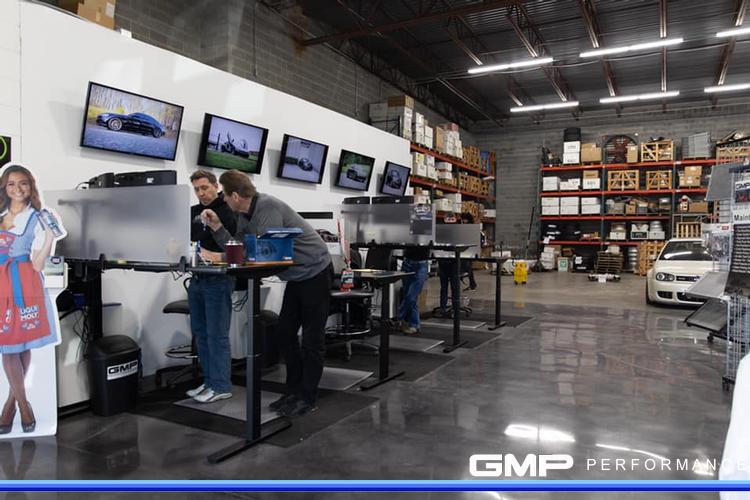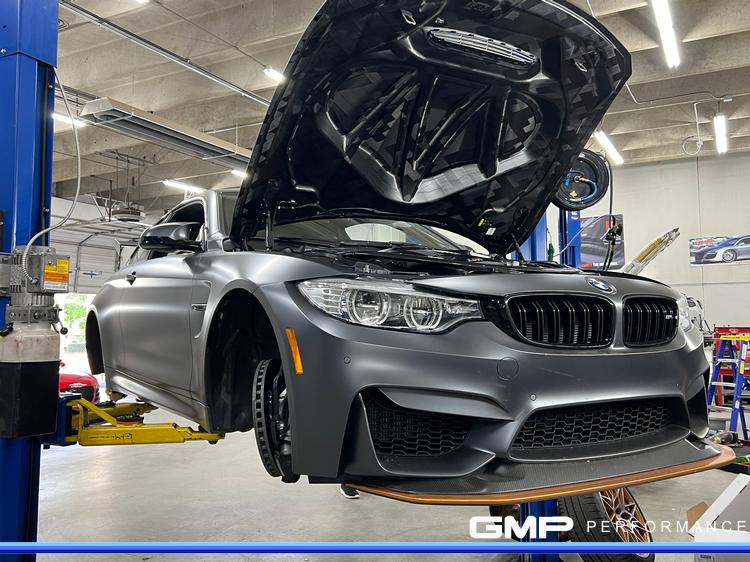 GMP Performance Lake Norman
Our Lake Norman store is located in Mooresville, NC known affectionately as Race City USA. Our shop and showroom occupy 10,000 square feet of the overall 30,000 square foot gated facility. This is the former home of The Racers Group and Robert Yates Racing. It was originally built by NASCAR racings Ricky Rudd and we share the space with local Air-Cooled Porsche restoration specialist Carolina Coach Crafters and the Boat Body Shop. Our shop has six custom designed Rotary Lifts, a Hunter Engineering Hawk Eye Elite alignment rack that has also been recessed in-ground for a flush approach as well as Hunter Auto34 Revolution Wheel Mounting Machine and Hunter Road Force Tire Balancer.
GMP Performance South Atlanta
Our South Atlanta facility is located on the southside of Atlanta in Peachtree City, GA. The location was a former call center that took some creativity and patience. The building is 14,500 square feet and fit our requirements of being a climate controlled space but the drop ceiling had to be removed to uncover the warehouse height ceilings. In addition, an oversized hole had to be cut in the side of the wall to accommodate a commercial sized roll-up door for cars to come and go. After many months of up-fitment, we were finally able to become operational with seven custom Rotary lifts, a Ravaglioli alignment machine with scissor lift that is OEM for Lamborghini, GMBH, Corghi Master J mounting and balancing machine and Hunter GSP9700 Road Force balancer. The space is large enough to house the shop, car storage as well as detailing in one overall space. The customer lounge is located just off our lobby and the parking lot is large enough to hold nearly 300 cars for us to host car meets for local clubs and enthusiasts.
GMP Performance Trackside
Our passion stems from learning to drive our vehicles at High Performance Driving Events. While the majority of our business and clients are focused strictly on maintaining and driving their vehicles day to day on the street, some want to experience car control at specialized events. These events are conducted on purpose-built closed road courses that are safe and controlled environments where seasoned driving instructors ride along with enthusiasts wanting to learn the characteristics that German cars are known for. Hosted by the Audi, BMW, Mercedes Porsche and VW Car Clubs along with dedicated HPDE organizations. we attend these events to provide support with our expertise and a team of dedicated individuals. We provide a paddock setup for clients to park their vehicles with a group of like-minded enthusiasts, socialize and make sure that the vehicles remain in well-working order by checking tire pressures, checking brake pads and rotors and scanning codes that may pop-up. We have a 24' enclosed trailer that provides support for a single car and guests or a 53' four-car hauler complete with awning and lounge to experience the ultimate in trackside hospitality. We call it our bucket list track travel truck and similar to golf, a foursome gets together with their vehicles and has us transport them to renowned tracks, while they carpool or even fly directly to the event.
History
Ever since the invention of the automobile, individuals were always trying to improve on what was offered to go faster, turn harder, stop quicker and look better than what was available. These automotive "tuners" fueled an aftermarket craze that has continued to this day. Joe Klitzsch is a pioneer in the water-cooled VW performance scene. Born and raised in the backyard of the pre-war Audi group located in the former East Germany. Joe came over to the United States in 1967 as a machinist, maintaining equipment in the Alabama and North Carolina textile industries.
A passionate car enthusiast, Joe participated in autocrosses and hillclimbs in a Triumph Spitfire and a BMW 2002. He had found a home in the autocross scene and drew the attention of fellow enthusiasts, who would ask him to bring parts back from his visits back to Germany. In 1975, Joe and Claudia Klitzsch, of German descent, had started "Deutsche Motoren und Teile", which translates into English as "German Motors and Parts" and fueled the aftermarket needs of German car enthusiasts. Joe's main passion was for Porsche's and had imported and owned a few throughout the early 70's. He wanted to start a Porsche service and repair business and also offer dismantling and recycling of Porsches leaning on his German roots to import the P-Cars and parts. VW introduced the Rabbit and the MK1 Rabbit, the first "hot-hatch", took the world by storm. On Mother's Day in 1976, Joe purchased a 1975 Rabbit for a daily driver. The VW Rabbit was a monumental changeover from the traditional rear-wheel-drive air-cooled platform to a new front wheel drive, water-cooled concept. This change revolutionized the automotive industry with many of today's cars following the FWD concept.
The daily driver Rabbit had a 1.5L carbureted engine and as a racer, Joe quickly sought out to make improvements. The carburetor didn't work all that well so Joe devised a better working system mating a new single downdraft carburetor to the engine with an adapter plate he designed and machined himself. People heard about Joe's conversions and Claudia started taking orders, selling them by the dozens. Joe's tinkering continued with various additional upgrades from engine to chassis. Joe would reach out to his roots in Germany with the help of some local resources. As a boy in Germany, Joe and his mother lived in the city of Kempten, across the street from ABT, famed VW/Audi specialist. Joe had watched Christian and Hans-Juergen Abt riding go-karts in the ABT parking lot as small boys. Joe enjoyed visiting with ABT and would see the newest products they had to offer. Upon return to the states, he began compiling a catalog of VW performance parts and the little daily driver Rabbit was the test-bed for these early upgrades, eventually getting a roll-bar and making its debut in the local autocross scene.
Word of GMP's Rabbit upgrades and imported parts quickly spread as the new VW water-cooled market rapidly expanded. In order to keep up with demand, Joe and Claudia decided that they needed to buy parts for inventory and development. To gain the financial resources to purchase these products and grow the business, Joe and Claudia made the tough decision to sell their imported, Dolphin Grey, Porsche 356 Coupe.
Using his connections back home, Joe began bringing parts over from ABT, Oettinger, BBS, and ANSA, among others. The purchased parts were first stored under the house they lived in and then went to a mini-storage unit. In a short time, it went to an 800 square foot building and then to a 3,000 sq foot business. After a few more years, a 6,000 square foot building housed everything. Catalogs were hand written and mailed out to potential customers. Tiny black and white ads were placed in the back of magazines and customers spanned the US. An early customer actually introduced the company to the concept of credit cards.
GMP was very much involved in SCCA and also with VW Motorsports, competing in a national series similar to the current Continental Tire Challenge Series, known as the Bilstein Cup. During this time GMP owned and sponsored a few a Bilstein Cup Cars that were raced successfully by notables such as Don Knowles and Peter Schwarzott, as well as brothers Karl and Paul Hacker who have also been very successful throughout the years in various forms of Pro and Club racing. GMP's relationship with VW also led to becoming one of three tuners selected by Volkswagen North America to participate in the 1985 VW Caravan, a six car display taken all around the country to race venues by VW. For the caravan, GMP again partnered with Zender to present a flared Rabbit Cabrio and stunning wide-bodied Scirocco, the first of its kind in the US.
After much success on the track and on display with their aerodynamics, Zender approached GMP about becoming the North American importer and distributor for their full line up of products. The German aerodynamic maker had no official US presence at the time and carried a full line of aero upgrades for European vehicles. GMP and Zender formed Zender North America soon began offering the US market aero kits for Audi, BMW, and Mercedes in addition to Volkswagen. GMP/Zender modified vehicle's graced the pages and covers of many a VW & Porsche and later European Car issues and GMP made numerous appearances at SEMA industry show. Also during this time, an 8,000 square foot addition was needed to house the influx of product inventory.
By the early 90s, the business had grown into the wholesale sector primarily focusing on Zender aerodynamics. By the mid 90's, VW and the entire European car market had declined and GMP expanded from just aerodynamics to also become one of 5 major MOMO dealers in the nation, in charge of the Southeast territory. In 2001, GMP became the sole importer and distributor for RH Wheels. Having left the racing and performance retail market, GMP had become a leading aero and wheel distributor supplying retail businesses all across the country.
In 2000, Joe and Claudia's son Stephen graduated college and joined the company. Stephen's passion for cars developed from a young age having been taken along to all the races and autocrosses. He started selling auto accessories during his summer vacations in middle and high school. With a graphic arts and marketing degree, Stephen initially helped GMP to produce a dealer catalog. After completing the catalog, the plan was that he would get a job in his degree field, rather than stay in the business. However, while working in the shop, he came across Joe's Zender Silver and Red Wide-body Scirocco (Cover Car for VW & Porsche 1983) and asked if he could take it to an autocross. Loading the Scirocco into the company's dormant and indiscrete solid white trailer from the SCCA Rabbit days, Stephen added a GMP logo on the side and used it to transport the car to autocross events. Familiar with GMP's past and Joe's former success in motorsport, local Charlotte customers would ask if he was still in business. There was a lack of European aftermarket parts sellers in Charlotte, so the retail market once again revealed itself as an opportunity.
Stephen focused on reconnecting with GMP's performance heritage and began reaching out to industry partners to offer products for retail sale locally and online. Stephen awakened the retail side of the business, GMP Performance, to cater to the re-emerging retail market through local sales and mail order on the web. GMP quickly reestablished itself with the VW 1.8T platform recognizing the tunability of the potent engine. In late 2000, GMP partnered with APR to provide ECU upgrades for local customers as well as began importing Projekt Zwo aerodynamics. The Internet also changed the way enthusiasts shop and a new generation of clients and dealers alike, were now finding GMP's products nationwide as well as internationally.
In 2002, GMP approached Carolina VW with an offer to build and promote a MK4 GTI for a charity raffle. The success of this project confirmed GMP's presence in the VW aftermarket performance sector tuning VW's new "Hot-Hatch" 1.8T platform. Joe sees that a lot has changed due to the introduction of the electronics however, with all this change, the basics are still the same. GMP turbocharged the 78-79 Rabbits and remembers having to install water injection systems to prevent pinging and TDC knock and it was always a struggle. Nowadays, this can all be achieved with programming but as things have changed, they are still the same. There was always an issue with a fitting being loose or a nut that is impossible to get to. Pipe diameter has always mattered and the air/fuel mix and ratios have to be right, and vacuum leaks were a problem then as they are now and can cause havoc and many lost hours of sleep. At the end of the day, you have to work with the best manufacturers and maintain the highest level of quality control. We prefer working with companies that have motorsports backgrounds and European standards to provide the best possible products.
Following on the same path as twenty years ago, the company gained notoriety in the VW market and expanded to encompass other luxury German brands including Audi, BMW, Mercedes and Porsche. The company acquired an E46 BMW and imported the MVR product line. In 2003, GMP Performance became a corporate partner with Michelin in their custom performance program. In 2004, speedART USA was started as a division of GMP, representing the German based Porsche tuner in the states with an exclusive US importer agreement. In 2005, GMP acquired APR's Audi S4 of Gumball Rally fame and began participating in track day events. In 2006, Stephen advanced with NASA racing becoming an instructor giving rides in the companies modified Audi, BMW and VW cars. Rounding out the euro brand family, by 2008 GMP had also become one of the nations largest Kleemann dealers, aftermarket tuner for Mercedes.
January 2010 welcomed a new year and to celebrate our 35 year anniversary, we announced that we would return to club racing with an Audi S3 as the new racecar in the familiar white with blue stripes paint scheme. To commemorate this special occasion, the Race Rabbit was also restored and in addition, a white MK6 GTI was dressed in similar attire. The three vehicles made the cover of European Car Magazine.
Club racing the Audi S3 for the 2011 season, Stephen won Rookie of the Year and the GTS3 points championship in the Nasa SouthEast region. However, after just one season, the car was retired and eventually sold to run Pikes Peak hillclimbs. The company redirected it focus into DE events and began track supporting customers with the addition of a 53' multi-car hauler. The hauler now makes trips all around the southeast as well as bucket list tracks across the country.
By 2013, the focus on drivers ed has changed the direction of the company to support track enthusiasts with their upgraded street cars. Today, GMP Performance modifies today's best German vehicles offered by Audi, BMW, Mercedes, Porsche and VW to improve speed, sound and safety. We work with the industry's most reputable tuners and suppliers to provide the best and most reliable components.
In 2015, Quentin Boatright joined GMP as service manager and began offering full-service options to our customer's providing pickup and delivery with our custom built 24' Haulmark enclosed trailer. We follow all the manufacturer's recommended service intervals to maintain warranty certifications. In addition as track enthusiasts, we know and understand the limits of the vehicles and tailor a specialized service plan for each individual. Furthermore, clients can have us pickup the vehicle and deliver it back to them at their convenience.
2020 was a standout year for our company. In January, we buildout our warehouse into a new showroom with customer waiting area, full-motion racing simulators and vertical car storage. We then converted the old showroom into a parts department to continue our quest for professionalism.
In September of 2020, we opened a second location in Mooresville, NC to support the Lake Norman area. Richard Rollins was an integral part of the team and confidently lead our team of advisors into the brave new territory of expanding in a 10,000 square foot space with six lifts and an inground alignment rack. Richard has since moved on to be our local Liqui-Moly representative and Jason Leake is now leading the charge at our Lake Norman location.
October 2022 was the launch of our South Atlanta location in Peachtree City, GA. Paul Brooker is the store manager and joined us from APR. As an APR dealer since 2001, we worked closely with their team and formed a bond with Paul a decade ago. After he decided to move on, we began speaking about an opportunity to team up for a southside location and after many years of discussions and planning, we were able to put all the right pieces in place to make it happen.
We continue to strive to be a leader in aftermarket service and upgrades with a goal of continuing to make this an evermore professional hobby. We are so thankful for the team of hardworking enthusisats that care deeply about the cars and customers that give us the opportunity to be GMP Performance.